Posted by PostureZone on 3rd Sep 2022
5 factors in choosing the best posture grid.
"What's the best posture assessment grid for my practice?"
1. How much space do you have?
Wall mount posture grids and door mount posture grids have the advantage of taking up zero floor space.
The portable posture grid is free-standing, and the support system requires about a 10" clearance from a wall.
2. Is durability and material a factor?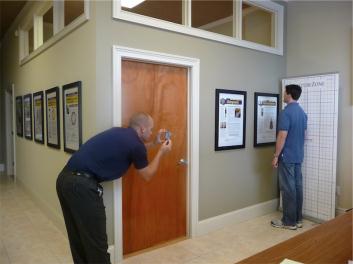 Many professionals use the wall or door grid as a place to teach posture exercise. Both are made of a plastic material and can be cleaned - sparing your walls of body oil transfer and scuffs. The portable grid is also durable, though requires care when pulling from and retracting into the base. (I do not recommend paper grids as they don't last and get dirty immediately, laminated grids will not lie flat and create a glare making posture pictures impossible to use, and banner material grids buckle due to seaming and give inaccurate reads)
3. Is it important to accommodate all body types and sizes?
The wall and portable grids both stand about 7' tall and 3' wide, making them perfect for your tallest and widest subjects. The door grid is slightly smaller in height and width. Created as a space saver, it will accommodate just about everyone, though you may lose detail on some clients.
4. Will you use the posture chart in your office or at events, both?
If you plan to take the posture analysis grid to screenings, the portable grid is ideal. It's a compact, self-contained, lightweight unit that sets up in seconds - and travels in the included carrying case.
5. Is price an important factor?
The door and wall mount grids are the least expensive options available. With the wall grid being the most popular due to durability, size, and price.
ORDER A POSTURAL ASSESSMENT CHART NOW>>>
"Very high quality! Will last forever! Easy to hang with the grommets and makes identifying postural imbalances very easy. I would highly recommend this product!" ~Tyler Tsujimoto