Posted by PostureZone Review on 7th Jan 2020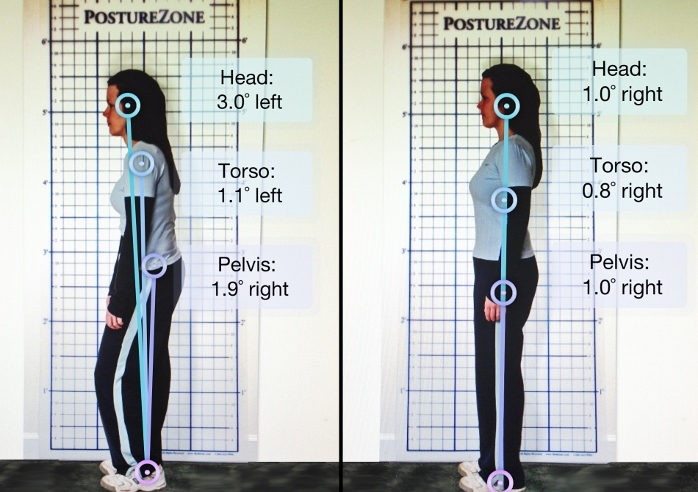 If you want to learn methods to easily capture posture pictures, the most common postural adaptations, contributing muscle patterns, and tons of tips to communicate these findings to your patient or client, we highly recommend Posture Pictures: Posture Assessment, Screenings Marketing & Forms, written by Dr. Steven Weiniger, posture expert, and Renee North, NASM trainer, yoga and Pilates instructor, and CPEP posture certified instructor.
This book includes essential information on how to use the posture niche to greatly enhance your practice - and why focusing on posture will organically lead to practice growth. The book even has tips for setting up health talks for corporations and at public venues, gyms and fairs.
Posture Pictures is a great book to own if you are curious about learning all there is to know about using posture assessment as a means to meet (at a screening) and schedule (as a result of the assessment) new patients and clients.
We also recommend Posture Pictures as an essential read for any professional in the field of posture rehabilitation, or any physician, trainer or therapist who looks at posture or motion for the purpose of competitive edge, rehab, aging, breathing, attitude or balance issues.
While the book contains a section on posture screenings, if your greater interest is in-office, clinical use or research you'll find the information on posture software, proper set up, posture analysis, posture education and patient communication tips, as well as the table on observations and corresponding tight muscles and weak muscles to be extensive and extremely helpful .
Finally, another feature to highlight are the free posture assessment forms and flyers found in the appendices. There are both simple and comprehensive posture assessment forms, a brief patient intake form (meant only for screenings), and a couple of flyers that can be customized. Note that the included flyers are also given to book owners after purchase as a free digital file to make it easy to customize the handouts for patient lectures, health screening or special event.
Posture Pictures: Posture assessment, Screenings Marketing and Forms is available from PostureZone.com, BodyZone.com, Amazon and a number of other book sellers.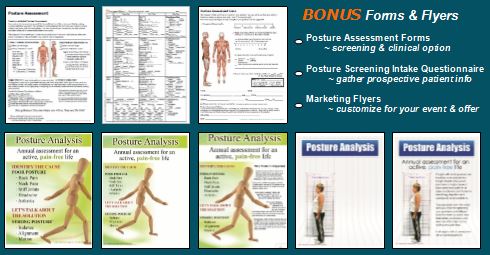 Other helpful lecture products that complement this book are: